Some explanations on our steakhouse…
Maturation is a physical phenomenon or the natural enzymes implants degrade muscle fibers. This process touched the meat and also allows the fat to blend into the fibers of the muscle. This phase lasts about twenty days.
A good maturation is done only with a selection of meat from the best terroirs of Europe and the world, with a predominant criterion: the perwake. These meats are then placed for 21 to 30 days in a cold room reserved for this purpose with a very precise temperature and humidity control.
In the end, we get a tender meat, with parsley, with an irresistible and subtle taste of hazelnut. Several breeds of meat have been selected to offer you even more fun!
The oven JOSPER how much the barbecue and oven functions allow to work with a high temperature to cook and braise avoiding drying and carbonizing the food.
This cooking technique combines the flavours of barbecue cooking with the tenderness of baked meat thanks to the use of vegetable charcoal the food is thus scented, with inimitable taste.
It also allows to smoke the food thanks to the use of different woods like the vine foot. This two-phase baking technique requires a little patience.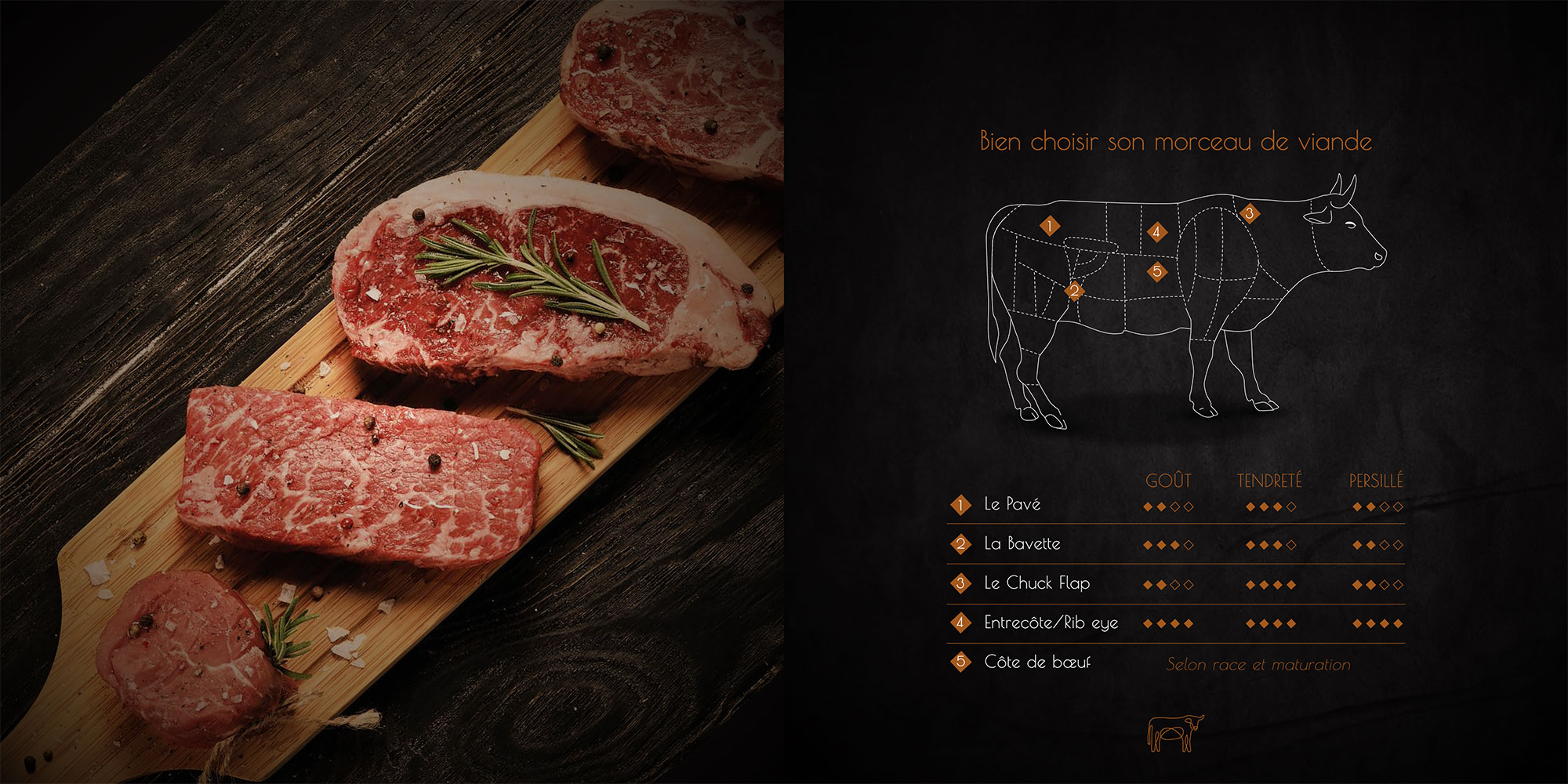 Matures Meats Approximately 30 days of maturation
And we offer our suggestions to the slate! Your Chef de Rang will inform you about our matured meats.
2 SIDE DISHES OF YOUR CHOICE
Homemade mashed potatoes, French fries, vegetables of the moment, salade of the season
Extras ……… 2,50€
*****
YOUR CHOICE OF SAUCE

Béarnaise, pepper, mushroom, Maroilles cheese sauce Extras……… 1,50€
Ice Cream & Homemade Sorbets
Ice cream flavors : VANILLA, CHOCOLATE, PISTACHIO, STRAWBERRY
Sorbets flavors : PINEAPPLE, MANGO, PASSION FRUIT, LEMON
BEEF LUNCH
Dish + Coffee
14,90 €
Dish + Dessert
19,00 €
according to our suggestions of the
week, only from Monday to Friday
BEEF KIDS
12,00 €

Chopped Steak and Fries
or Cod and Vegetables
——
2 scoops of ice cream
——
Drinks : Soft or still water
BEEF MENU 32,00 €
STARTER in choice
Duck Foie gras and chutney of figs served with grilled Josper bread
Croquettes d'écrevisses, sauce cocktail
Chef's soup
——
Dish in choice
Marbled entrecote served with french fries
Cod back sauce and risotto
Crying Tiger: heart of rump, spicy sauce, coriander, Thai rice
——
DESSERTS in choice
Pain perdu brioche, apple caramelized
Paris Brest homemade